Blue Ridge Firearms will be conducting a NRA Basic Pistol Course on Saturday, January 27, 2018.  This course will run from 8am -5:30pm.  Cost is $150.
The NRA Basics of Pistol Shooting course is the best way for you to learn the basics of pistol shooting from the top firearms training organization in the world! The course is the first steps for you to obtain the proper certification for your concealed carry permit in some states. Be sure to contact your county, city or state to find out whether this course fulfills the requirement.
Course Menu: The Basics of Pistol Shooting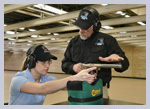 The NRA Basics of Pistol Shooting course is a blended training course, which means a portion of the course is conducted in an eLearning environment (online) that can be completed on your own time. The eLearning portion teaches gun safety rules; types of pistols; proper operation of revolvers and semi-automatic pistols; ammunition knowledge and selection; selecting and storing a pistol; the fundamentals of pistol shooting; clearing stoppages, zeroing; pistol shooting errors; and pistol inspection and maintenance.
Once you pass the final online exam for this segment and generate your completion certificate, be sure to register for the instructor led training portion (conducted in a classroom and at a range) to complete the course. You can download and print "Looking Ahead: Performance Requirements" under the resources section of the course menu.
It takes an average of 7 hours to complete this course.
Click here to register today!
Questions?  Contact Blue Ridge Firearms (706-406-3350)